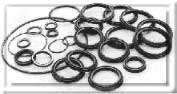 Rubber seals / kits for Hammer Unions and Swivel Joints, in Nitrite and Viton, for all sizes and all pressure ratings, for standard and sour services.


GASKETS ( Metallic )


MTS supplies Ring Joint Gaskets in all sizes and materials to ASME B 16. 20 & API 6A.

Material - Soft Iron, LCS, F5, SS304, SS316, SS321. in type R- (oval/octa) Rx and Bx. under conformation to API - specification of 6A.

Above items can be applied in Carbon Steel, Low Alloy Steel, Alloy Steel, Super Alloys as 17-4 PH, MONEL, INCONEL etc. meeting any International standards e.g. ASTM, API, BIS, JIS, DIN, AISI, ISO, BS & Is etc.